CHRISTMAS CARDS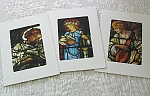 Click Above
Christmas cards! These are more than just cards, they are the perfect gift for any lover of stained glass art. These miniature works of art look simply gorgeous whether framed or just decorating a mantle or a tree.
Each one: -

° features an actual photographic (not inkjet) print mounted onto a blank notecard
° is made of luxurious, heavy-weight paper which is acid-free
° has a matching envelope in the same acid-free paper stock
° comes individually and attractively packaged in a clear, resealable and archival sleeve
° can be used as a mat and will fit into a standard 5" x 7" frame
° if properly stored or displayed under glass will provide years and years of enjoyment

To see some pictures of actual cards just click on the small thumbnail at the top of this page.
The cards come in sets of 3 different designs for just $9.95 per set and for a limited time we are offering FREE shipping on domestic orders ($4.25 for international orders) and the S&H cost stays the same however many sets you buy!
Payment can be made securely and easily via PayPal by a number of methods and major credit cards are accepted. If you are interested in opening a PayPal account then click on the link at the bottom of this page and, if the offer is still running, PayPal will give you $5 just for opening one.
These are also covered by our no-quibble guarantee. If for any reason you are not entirely satisfied with your purchase just return it to us and we will refund the full purchase price, excluding S&H.
If you are still undecided then read what our cusomers are saying
Special pricing is available for wholesale quantities of 50 cards or more, please enquire via email.
Special note for UK customers: - Unfortunately, due to a licensing agreement, we are unable to offer the Morris and Burne-Jones Christmas set for sale in the UK.
Christmas Set number 1

Morris and Burne-Jones Christmas set (Not available for UK customers)

Annunciation and Visitation set

Nativity set 1

Nativity set 2

Angels for Christmas

Musical angels for Christmas

St Luke's Episcopal Church, Montclair set 1

St Luke's Episcopal Church, Montclair set 2