INDIVIDUAL CARDS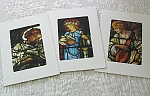 Click Above
For those customers who would like to buy a single card we are offering a selection for just $3.50 each plus only 95 cents shipping and handling. These are exactly the same cards as we are selling in sets and which have received rave reviews from the many people who have bought them.
Also, just because we are offering S&H below our cost do not assume that we will be taking any shortcuts. Each card will be sent in its own individual clear, resealable, archival sleeve neatly enclosed in a photo-mailer to prevent it from getting creased or bent in the mail.
Much more than just a card, these are actually small works of art and they look beautiful. They are made to be frameable. Each one incorporates an actual photographic (not inkjet) print on a Strathmore fine art, acid-free and archival card with matching envelope. They are individually packaged in a clear archival sleeve and have a discrete label on the back with brief details about the window.

To see some pictures of actual cards just click on the above thumbnail.
Payment can be made securely and easily via PayPal by a number of methods including all major credit cards.
These are also covered by our no-quibble guarantee. If for any reason you are not entirely satisfied with your purchase just return it to us and we will refund the full purchase price, excluding the shipping and handling charge.
Mary Magdalene and the Risen Christ

John Comforts Mary at Calvary

Jesus in Gethsemane

Jesus Carrying the Cross

The Agony in the Garden by Ford Madox Brown

Last Supper

St Cecilia

Blessed are they that Mourn for they shall be comforted

Jesus, Lord of the Universe

Angel holding child

Angel of Peace

Angel with mandolin

Musical Angels 1

Musical angels 2

Musical angels 3

Angel of Peace by Tiffany

Angel of Hope by Tiffany

Angel of Charity by Tiffany

Angel of Goodness by Tiffany

Angel of Hope 2 by Tiffany

Angel in red by Tiffany

Jesus Blessing the children by Tiffany Studios

Blessed are the Peacemakers by Tiffany Studios

Moses by Tiffany Studios

The Virtue of Charity by Tiffany Studios

Hands detail from the Vatican

Jesus the Good Shepherd from Searsport

Resurrection angel by Henry Holiday

Mary from an Annunciation window by Henry Holiday

The Ascension by Henry Holiday

Mary Magdalene from a Resurrection window by Henry Holiday

Mary Magdalene from a Resurrection window by Tiffany

Saint detail by Connick from the Basilica of the Immmaculate Conception