FRAMEABLE ART CARDS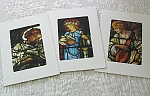 Click Above
Greeting cards.... Birthday cards.... Get Well cards.... Confirmation cards....Easter cards.... Bereavement cards Christening cards.... Anniversary Cards....Baptism cards.... I Love You cards.... in fact - anything-you-want-them-to-be cards.
Whatever the occasion, there is a perfect gift here for any lover of stained glass art or anyone for whom a particular subject will have special meaning. It might be one depicting Jesus or a patron saint, or perhaps an angel or maybe a significant figure such as Mary Magdalene.
Much more than just a card, these are actually small works of art and they look beautiful. They are made to be frameable. Each one incorporates an actual photographic (not inkjet) print on a Strathmore fine art, acid-free and archival card with matching envelope. They are individually packaged in a clear archival sleeve and have a discrete label on the back with brief details about the window.
To see some pictures of actual cards just click on the small image of the 3 cards at the top of this page. Finally, if you would like to buy 25 or more cards for a special occasion such as a Confirmation or a First Communion then email us for our special quantity pricing. Also, remember that you can select almost any design from the website, not just those we show in the cards section.