CARDS IN SETS OF THREE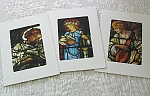 Click Above
Much more than just a card, these are actually small works of art and they look beautiful. They are made to be frameable. Each one incorporates an actual photographic (not inkjet) print on a Strathmore fine art, acid-free and archival card with matching envelope. They are individually packaged in a clear archival sleeve and have a discrete label on the back with brief details about the window.

Each set of cards contains 3 different designs, as illustrated, and costs just $9.95 per set and for a limited time we are offering FREE shipping on domestic orders for these ($4.25 for international orders) and the S&H cost stays the same however many sets you buy!
Payment can be made securely and easily via PayPal by a number of methods and major credit cards are accepted. You do NOT need to open a PayPal account, you can simply do a single transaction using a credit card. However, if you are interested in opening a PayPal account you might wish to visit our PayPal page.
These are also covered by our no-quibble guarantee. If for any reason you are not entirely satisfied with your purchase just return it to us and we will refund the full purchase price, excluding S&H.
If you are still undecided then read what our customers are saying
Special pricing is available for quantities of 50 cards or more, please enquire via email.
Christmas cards can be found on a separate page via this link
HOLY WEEK SET 1

Angels for any occasion

Musical angels

Tiffany Angel Pictures Set 1

Tiffany Angel Pictures Set 2

Tiffany Studios set 1

General works set 1

Henry Holiday Designs

Designs featuring Mary Magdalene